Home
---
Publications
Awards
Research
Teaching
---
BLOG
Miscellaneous
---
Full CV [pdf]
---


Events





Past Events






Torsten Hoefler's Webpage - Awards
---
2019 ACM Gordon Bell Prize
The Gordon Bell Prize is awarded each year to recognize outstanding achievement in high-performance computing. The purpose of the award is to track the progress over time of parallel computing, with particular emphasis on rewarding innovation in applying high-performance computing to applications in science, engineering, and large-scale data analytics.
---
2019 Best Student Paper Award ACM/IEEE Supercomputing (SC19)
---
2019 IEEE TCSC Award of Excellence (MCR)

for contributions on all aspects of large-scale scalable parallel processing systems and supercomputers
---
2019 Mentoring the Swiss Student Cluster Competition Team

I mentored the successful Racklette Team at the ISC'19 Student Cluster Competition (they won themselves!)
---
2017 Teaching Award in the category "Best Interaction"
decided by democratic vote of the student body at ETH
---
2017 Best Student Paper Award at IEEE Symposium on Hot Interconnects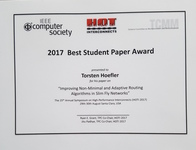 With Pedro Yébenes , Jesus Escudero-Sahuquillo, Pedro J. Garcı́a, Francisco J. Quiles
---
2016 Outstanding Paper Award at ACM Symposium on Object-oriented Programming, Systems, Languages, and Applications (OOPSLA'16)

With A. Dan, P. Lam, M. Vechev
---
2016 Best Student Paper Award at IEEE Symposium on Hot Interconnects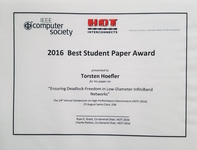 With T. Schneider (advised Ph.D. student), O. Bibartui (advised M.Sc. student)
---
2016 Karsten Schwan Best Paper Award at ACM Symposium on High-Performance Parallel and Distributed Computing (HPDC'16)
With P. Schmid (advised BSc student) and M. Besta (advised Ph.D. student)
---
2015 Latsis Prize of ETH Zürich
Press release
---
2015 Best Student Paper Award at IEEE Symposium on Hot Interconnects

With S. Di Girolamo (advised Ph.D. student), P. Jolivet (advised postdoc), K. D. Underwood
---
2015 Best Paper at ACM Symposium on High-Performance Parallel and Distributed Computing (HPDC'15)
With M. Besta (advised Ph.D. student)
---
2015 Best Paper at IEEE International Parallel & Distributed Processing Symposium (IPDPS)

With R. Bellii (advised MSc student)
---
2014 Best Student Paper Award ACM/IEEE Supercomputing (SC14)
With M. Besta (advised Ph.D. student)
---
2014 Indiana University SoIC Young Alumni Award

---
2013 IEEE/TCSC Young Achievers Award
---
2013 Best Paper Award ACM/IEEE Supercomputing (SC13)
With R. Gerstenberger & M. Besta
---
2013 Best Paper Award EuroMPI'13
With T. Schneider & F. Kjolstad
---
2012 SIAM SIAG/SC Junior Scientist Prize
Press release
---
2011 Best Poster Award PPoPP'11

With J. Willcock, N. Edmonds and A. Lumsdaine
---
2010 Best Paper Award ACM/IEEE Supercomputing (SC10)
With T. Schneider and A. Lumsdaine
---
2010 Best Paper Award LSAP'10

With T. Schneider and A. Lumsdaine
---
2009 Best Paper Award LCI'09

With J. Mueller, T. Schneider, J. Domke, R. Geyer, M. Haesing, S. Hoehlig, G. Juckeland, A. Lumsdaine, M. Mueller and W. Nagel
---
2008 Cluster Challenge Champion SC'08
With J. Domke, R. Geyer, J. Mueller, W. E. Nagel, G. Juckeland, C. Beckley, V. Savage, T. Schneider, A. Lumsdaine
Press release
---
2005 Universitätspreis 2005 (Best Student Award)
Press release
---
2005 PARS Nachwuchspreis 2005 (PARS Junior Researcher Award)